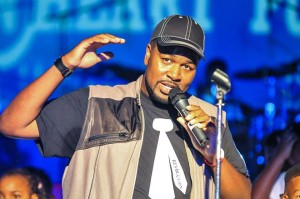 Today's Truth: "Blessed are the pure in heart for they shall see God." ~Matthew 5:8
It's a Revolution: Interview with Alphaeus Anderson
Revolutions are birthed from the realization that more is possible, and it begins with one seed.
Identifying purpose can seem intimidating to many—living purpose can feel impossible to most. Often we can see our heart's dreams and desires as intangible goals and lofty ideas. But what if there was a revolution purposed inside you? What if God is waiting on you to start with the seed He's given? What if you chose to live your purpose purely from your heart?
You may see God in ways you've never experienced before.
Alphaeus Anderson, Spartanburg, South Carolina native, proves we are born with purpose and we have the ability to live God's truth through our lives.
"I was 18 years old starting a kid's choir, not knowing everything that would come along with it," shared Alphaeus Anderson, author, producer, songwriter, brother, husband, CEO and founder of the EAT Center in Greenville, South Carolina.
"At 15 years old I was given the opportunity to teach a children's choir of 50 for their youth choir's anniversary in Gaffney, South Carolina."
Under Alphaeus' leadership, the choir became very popular and he was sought after for his passion, gifts and talents in music. That same year, he was given an opportunity to serve at the Baptist Congress as an accompaniment for his mentors. Alphaeus, having a heart to serve had the chance to teach his original arrangements to the choir and sold his music afterwards—selling out.
"Growing up, I knew I was creative. My mom and dad are creative; all I needed was an opportunity. Those opportunities built my confidence and pushed me.
Upon graduation from Anderson College, Alphaeus married the love of his life, Alexias Anderson and the two started the Stellar-nominated children's choir, Pure N Heart, based off the scripture Matthew 5:8 "Bless are the pure in heart for they shall see God."
"I named my choir Pure N Heart because children's voices are pure and filled with innocence. I never charge, and I don't hold auditions—I don't compromise on those two factors."
"Absalon Richardson was Pure N Heart's very first member, and he punched me in the stomach!" Despite the gut-check, Alphaeus and his team moved forward and brought 130 youth across the state of South Carolina together for their first recording.
"The quality wasn't good! I didn't have a mentor in producing and I was operating in production. We were flying off the seat of our pants.  While I had gifts and talents, I knew I didn't know everything, so I started asking a bunch of questions, I wasn't too proud to ask. I took notes and implemented the suggestions and tweaked my work."
Gaining mentors and the necessary tools to grow, Alphaeus' dedication and commitment have given him opportunities he hadn't imagined. While he continued working with the children's choir, gaining more and more members, the inevitable happened.
"Kids grow up. Those 130 kids grew up quickly and many of those kids still wanted to sing. Some of the kids stayed as section leaders, but Teen Pure N Heart was birthed from them. The kids wanted to do it—it wasn't in my plan. We never planned for that, but their (Teen Pure N Heart) CD won a Stellar Award.
While the awards and recognition are great, "I LIVE for the rehearsals. I love the preparation. That's where the magic happens. During our rehearsals, we see things happen, teens accept Jesus as their personal Savior, they are delivered from things they are dealing with—it's a special atmosphere because of what's created. It can only be experienced, it can't be explained!"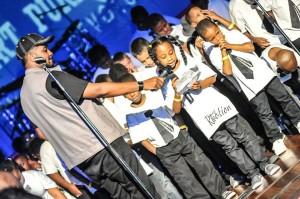 Today, with more than 500 youth, those youth's parents, and the Pure N Heart team, Alphaeus' once a year event of leading a choir of 50 has evolved into a revolution—a movement of young people singing scriptures, living God's word and having an awesome experience.
"With more than a 1,000 people, I never saw myself as a leader—just a facilitator having fun, taking risks, spending a lot of money!"
"We are having a ball, living a dream. I feel honored to do it. Sometimes your observations can look like complaints. This is something I want to do, there has been some sacrifice. I often feel like I'm shooting for a target that no one else sees and if I hit it –genesis, but to continue to go for something and you see the opposite of what you need to happen—it is God's grace sustaining us. But when my wife and I look back, have we really lost? No. Our personal life has always been a progression. I believe it's because we keep Pure N Heart as our offering and tithe, I believe all will be well. I think we should keep it set up where Pure N heart doesn't make a dime. The scripture that comes to mind is 2 Samuel 24:24 'I will not sacrifice to the Lord my burnt offerings that cost me nothing.' The sacrifice is worth it."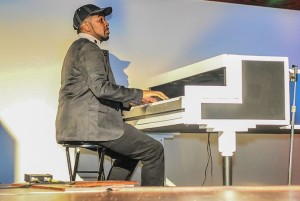 From Alphaeus' truth, we learn that dreams can become reality, and we're never too young to start!
Alphaeus identified his passion and pursued it from his heart. He obeyed what was calling him.
Alphaeus' gifts, life and ministry prove the "pure and heart" really will see God; I'd argue we get a glimpse of Him through Mr. Anderson's life.
In Application
Alphaeus is a Stellar Award Winning producer; you don't want to miss the gift of Alphaeus Anderson. His life, his ministry and his spirit will bless you. Click the links below, get involved by subscribing to his website and purchase his music.
Subscribe Here:
Gain & Maintain | Youth Ministry Resources
Purchase Here:
https://itunes.apple.com/us/artist/teen-pure-n-heart/id436534764
Sign Your Child Up Here:
http://purenheartrevolution.com/join/
Prayer
Heavenly Father, thank you for showing me dreams are possible if I seek you first. Give me passion and the burning desire to pursue what you have called me to with all of might, no matter what. I will fulfill your purpose for my life, in Jesus' name, Amen.
This article is dedicated to Alphaeus Anderson's twin brother Aaron Anderson (1981-2012) who used his life to serve others.  
It's A Revolution: Interview with Alphaeus Anderson