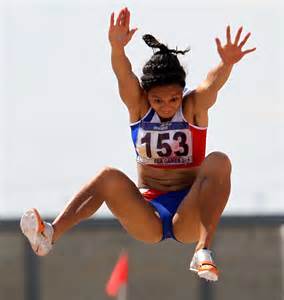 Today's Truth: "Do no despise the day of small beginnings, for the Lord rejoices to see the work begin." ~Zechariah 4:10 NLT
 Long Jumping
I learned about the long-jump in elementary school. Strangely, during our unit on gymnastics, it was my absolute favorite activity.
I'd love seeing how far I could jump, desperately trying to get my heels just an inch further every time. I'd throw my arms back beside me, squat ¾ inches from the floor, put my eyes on the target of my landing and jump. And, if for some reason, I didn't make it to the place I'd envisioned, I'd go back and continue to try. A few times keeping every motion and movement the same and other times adjusting my arms and how far I squatted, but I never took my eyes off the target.
There were times I got really tired of not landing in the tile block I was aiming towards, but there was something inside that wouldn't let me quit until I landed in the place I saw for myself—the place I felt I belonged.
And yet with all the trying, the work, the rigor—it was still my favorite thing to do. Jump!
There's likely a place you see for yourself—a goal you're trying to reach, a sickness you're determined to conquer, a debt you're persistent to clear—something. You're likely working really hard, jumping really far and keeping your eyes on the goal.
But sometimes, not landing in the place we envision can be disheartening. Sometimes it causes us to wonder if jumping is even worth it.
Are the bruised knees, shattered egos and narrowed path worth it?
Is finishing, landing worth it?
Is the place I see even real or better than where I stand because I seem to never reach it?
Despise not small beginnings. Try once more. Put your arms far behind you, squat deeper into your position and keep your eyes posted…no, keep your eyes locked on Jesus.
He's worth it. What He has for us is worth it. We have to believe it. We have to know it, and we have to keep jumping, though the jump seems long.
We're building endurance. We'll land in the place we see ourselves if we keep going; if we keep jumping.
In Application
Don't be afraid when you don't nail the landing the first time. Hold on to God's arms, get back up and try again. The Lord rejoices to see the work begin.
Prayer
Heavenly Father, jumping is so much work. It requires so much of me, but I'm willing to give it. I'm willing to keep going because you're worth it. I ask that you help me stay committed to the course and you give me what I need to make it to the place I see for myself and the place you promise. Not getting to the place I see is hard. It's disappointing and honestly, it's frustrating because I feel like I've done so much to reach the mark—but I'm still falling short. With your supernatural strength, infinite wisdom and unfailing power, I ask that you guide my heart and mind, and I thank you that the endurance I'm building is for my good and your glory. Thank you for spirit giving me the desire to keep going, in Jesus' name, Amen.
Live Your Truth
Need help getting started? Make the investment and sign up for a 45 minute coaching session with Jossalyn. Email: jossalyn@jossalynsjourney.com for details. You are worth the investment!
Spring is upon us, you should be SPROUTING!!!!
Order your copy of my NEW book: Sprout Up: 21 Days of Getting to Your Intended Place