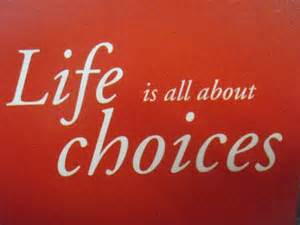 Today's Truth: "Better a meal of vegetables where there is love than a fattened calf with hatred." ~Proverbs 15:17 NIV
Choices
Believe it or not, choice is one of the most powerful tools we possess. Think for a moment, in everything, good, bad, difficult, or easy, we have a choice. But while choice is a powerful tool and a true gift from God, there are times we take it for granted and give it away because we forget its unique ability to impact our results.
Choosing to say no when there's so much pressure to say yes.
Choosing to let go, when there's so much pressure to hold on to what we possess.
I believe one of the meanings of this scripture is about choice. While it's better to have a meal of vegetables where there is love, there's still something tugging at us, telling us having the fattened calf is better—even if it means hatred is the result.
I believe God, in His infinite wisdom, presents us with options and gives us the capacity to reason and choose.
What choice will you make?
Will you make the choice to stop eating sweets if it means lowering your cholesterol?
Will you make the choice to downsize if it means being debt free?
Will you make the choice to end a relationship if it means growing in wisdom and patience?
"It's better to have a meal of vegetables where there is love than a fattened calf with hatred."
Some choices may be harder than others and require a bit more fortitude and discipline, but just as you have been given the power to choose, you also have the power to remain committed to the choice you make.
In Application
Reexamine your opportunities, circumstances and situations; perhaps there is a different a choice…a better choice.
Prayer
Heavenly Father, thank you for the gift of choice; it's sometimes difficult to make the choice that's best because I worry about conflicting opinions. I become consumed by the details of the moment and can't see the forest for the trees. Give me strength to make the best choice, and if I choose an option that's not necessarily what's best for me, I want you to know I'm completely okay with you rerouting the path. Thank you for loving me and allowing me to reach the expected end you've ordained for my life, in Jesus' name, Amen.